Tips for planning your family wedding photos
Your wedding ceremony at one of Melbourne's many wedding venues has ended! Congratulations! What's next? It's time for your family wedding photos! And yes, I believe having your family portraits are an important part of the big day. For this part of the wedding to go smoothly. It is ideal to have a plan or a pre-designed family wedding photo list. This list should show which groups, families and friends you'd like captured from your Brunswick wedding photographer.
Big group photo
Having a big group photo is always a great idea, because it gives you a reminder of the important people that attended your wedding. For this to work, as the newlyweds are walking down the aisle make sure that the celebrant provides some direction to the guests, before the end of the wedding ceremony.
I would advise you to tell the celebrant and announce to the guests to follow the bride and groom and wedding party. That way, there will be someone to follow and it will allow everyone to move toward the location for the big group photo. The location will have been organised, beforehand at the pre-wedding meetings.
This photo will normally be taken at the entrance of the ceremony venue. Or at a location that complements the wedding venue you have chosen. This could include the front of the chapel or even next to a vineyard.
For this to work out, we just need to make sure that there is enough space for everyone. And that I have a decent height advantage so I can get everyone's faces in the frame (I'll normally bring a step ladder to help with this).
This should take no longer than 5 minutes.
As soon as this is done, the location of the big group photo will normally be where family photos are taken, unless otherwise specified.
---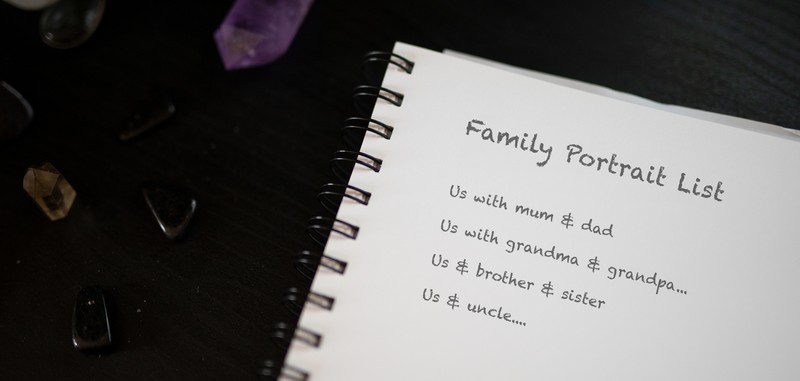 ---
Family wedding photo shot list
To ensure this process goes smoothly, I would suggest creating a family photo list. I personally love family portraits. It should always be on your list of MUST HAVE photos. The reason why I suggest a list is because it will help us be more organised and save time. In addition, it gives you a chance to think about what important photographs you'd love to have in your album. Some photographers may find this a tedious part of the day. For me however, it's one of my favourite parts, because I find that these photos often mean the most to my couples.
This should take no longer than 30 minutes. But this can also depend on how many groups and families you wish to have photographs with.
When creating your list, ensure to indicate your relationship(s) and their name(s). It allows me to call on people as I go through the list.
NOTE: Make it clear to those you wish to have photographs with, to stay in the area of the family portrait. If you don't make this clear, it's likely they'll wonder off, and time will be wasted.
It may be worthwhile to have someone close (wedding party members) that knows and or are close to your family to direct them.
Here is a guide we will normally go through at the last pre-wedding meeting.
Couple with Celebrant
Couple with [name]'s Parents (Name of Parents)
[Name] with [Name]'s Parents (Name of Parents)
Couple with [Name]'s Parents & siblings (names)
[Name] with Siblings and siblings partner (if applicable)
[Name] with Siblings Family
Couple with all parents (names)
Couple with grandparents
[Name] with [Name]'s grandparents
[Name] with [Name]'s parents & grandparents
[Name] with [Name]'s parents & grandparents & siblings
Couple with parents & grandparents
Couple with parents & grandparents & siblings
THINGS TO CONSIDER FOR YOUR FAMILY PORTRAITS
Time is always going to be something to consider. Here are some things I've learnt from photographing family portraits at weddings. These suggestions will not only save you time, but also ensure your wedding schedule goes to plan.
When should we schedule family photos?
Typically I'll suggest that it happens straight after the wedding ceremony. Considering this is the only time where everyone one will be together (and looking their best!). It gives you an opportunity to have a big group photo. And if weather permits, I can also provide aerial photography as an alternative method.
How much time is needed for family portraits?
Most family photo sessions should not take any longer than 30 minutes. So if you look at the example list I gave you. It can really depend on how large your family is. Each group photo takes 2-5 minutes. There are 13 groups in the list above, so it could last from as little as 30 minutes to 1 hour.
To simplify things, think about whether or not you need singular groups i.e. couple with siblings vs couple with siblings & siblings family. Or [name] with siblings vs [name] with sibling & sibling family. Is it important to have both?
Who should I include in my family photos?
As you go through that list, think about who should have a photograph, and whether it should be in the album. Going back to the previous question, should there be duplicates of a certain family members or should their just be one?
Other ideas
For whatever circumstances, I know some couples have other families as well, that do not include their blood family. So you may have some additional wedding photo ideas such as; bridal party only or groomsmen only. These are great ideas to have and can be provided. It may be worth considering having these photos taken during the on-location wedding portrait session with the bride and groom.
What's next?
Usually I'll take the wedding party and the couple away for some on-location wedding portraits. This could last from 1 hour to 3 hours. Depending on the start time of the wedding reception. While you are away with your wedding party. Your guests will be heading over to the wedding reception for cocktail hour.