Wedding Photography Styles
Wedding photography styles explained: a guide to choosing a photographer
You've got engaged, you've set a date, you've picked a venue and potentially a celebrant. Now, you're hiring your professional wedding photographer. Here I'll provide some insights and inspirations on one of the key things to look for deciding on your wedding vendor.
When it comes to choosing the right wedding photographer in Melbourne, on top of the many other things (like checking the photographers work i.e. wedding photos). One of the main things to consider, is settling on a style that suits your preferences and tastes.
You may be asking yourself;
"What are the different wedding photography styles?"
"How does this style benefit over the other?"
"What does each style look like in a wedding album?"
"Which photography style is best for weddings?"
In general, wedding photography can be categorised into 4 dominant styles. Usually, photographers will excel in one of these styles because;
it reflects the way they enjoy photographing,
they excel at it,
it reflects and suits their personality.


With all of the available information online, I can imagine that many photographers are able to excel in at least one photography style. Some may even mix and match the different kinds of photography styles, allowing them to create many amazing photos!
Here I provide a guide on some basic information on the more popular and mainstream styles of wedding photography. The information may give you an idea on what to look for in wedding photography styles that you suit your tastes and personal preferences.
Personally, I believe all wedding photography styles are important for a wedding day. And you may be surprised how much each style contributes or influences how your photographs appear in your wedding album. But at the end of it all, it really depends on you, what is important to you and how you wish your wedding day to be remembered.
---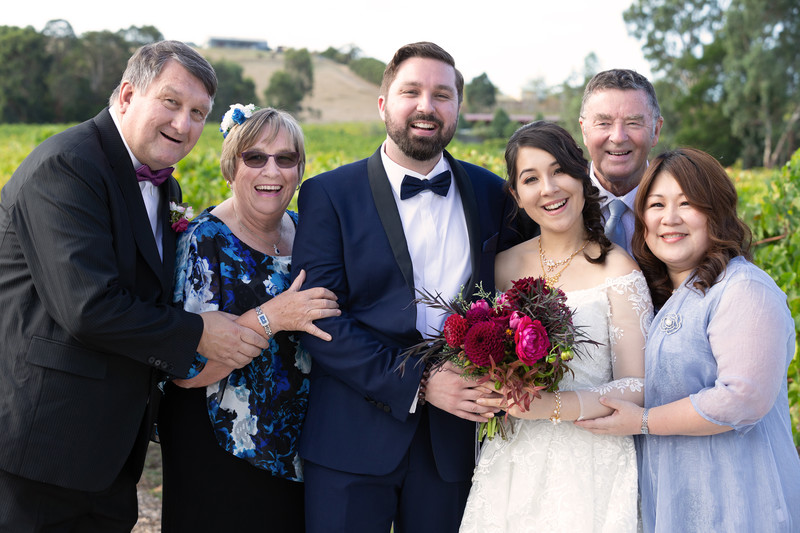 ---
Traditional wedding photography
We can also classify this style as classical portrait photography. For a lot of couples, this style can be considered "old fashioned". You'll find a lot of this style in your parents' albums, where a lot of photos are set up and posed. This includes; family photos, bride & groom photos, bride & groom with grandparents. Technically, they are captured images that are well lighted, composed and overall not very creative or innovative.
I enjoy these photos, because they are just nice photographs that stand the test of time. What do I mean by this? Well essentially, these photographs are heirlooms, they capture the subject, and give a sense of identity or existence in time. It gives an opportunity to obtain some photos where everyone is looking and feeling their best. While showing off the amazing wedding gown and sleek looking suit (that you'll only be wearing once).
It's also a great chance to get your family together and get a nice, well-posed, composed photograph to have for the album or printed wall art. And even though, as most people say it's about the bride and groom. There's no denying that your families and closest friends are involved and are there to celebrate your special day with you.
What's exciting about having these types of wedding photos, is they can always be re-printed and can be used for gifts. Other uses could be for anniversaries, for family members, for guests that could not attend. And as time goes by, you can share the photos with your kids and tell them stories about the family members that were there to celebrate your wedding day. Why wouldn't you want a family wedding photo?
---

---
How does the traditional style influence your wedding photos?
Did you know brides hire us not just to photograph, but to also direct?
When it comes to being photographed, no one is born to know where to stand, or how to pose their face or body.
According to Fstoppers, one of the biggest things brides wished wedding photographers knew was this:
"I have no idea what to do with my body when you are taking pictures. I am not the photographer—you are. I cannot see how I look— you can. Unless you instruct me exactly how to place every limb, finger, and tilt of my head, I will nervously stand there with a less than convincing smile because I am not confident in my pose. I am going into this with the assumption that you will tell me how to do everything." - Fstoppers.
We are experts at composing and creating flattering photographs of you, your friends and family
In many cases, photography requires a lot of technical skills, so photos will never appear perfect, to begin with. But that doesn't mean we, as professionals should be lazy. It may seem true that all we do is press a button, but there is still a level of responsibility in ensuring you look amazing, pristine and flattering. This is why it is important for us to take charge and guide you. Whether it's through providing some direction of articulating your face, your body, your hands and even bringing out the emotions. These factors should always be considered before going trigger happy and taking photos that are not suitable.
This also includes adjusting your tie, your collars, adjusting the pocket square, taking phones out of your pockets and adjusting the veil and making sure your hair isn't in your eyes. Flattering photos don't happen instantly, and will require some level of direction and guidance. This will ensure the photographs are composed properly, less time is wasted and the people in the photographs will look amazing and as natural as possible.
professional crowd controllers!
It's a little indirect, but because we are professionals and take the initiative to support and direct you. From experience, we also naturally learn to speak openly, and a tendency to manage and keep a level of order. The point is, weddings can involve a large group of people (at least 50+), and managing this many people isn't as easy as it sounds. For example, making sure guests are dressed appropriately, guided to a flattering appearance and ensure that VIPs are assembled together for important family photos or big group photos. Because in reality, if we forget someone important, sometimes, there is not a lot of second chances to get another photo, especially when time is also an important factor.
---


---
Photojournalistic wedding photography
Today many professional photographers will also call this style, journalistic, candid, natural, reportage. Photographers are unobtrusive, and show little involvement in what happens in the photographs. So they won't interfere or pose the guests or couple.
This is one of the most popular wedding photographer styles that couples are looking for in capturing the story of a wedding day. As some couples may not like being posed because it feels unnatural, and they may not like the idea of staged photographs.
Journalistic style photographers treat weddings like a documentary (i.e. documentary photography). They capture moments objectively and naturally, while blending into the environment and waits for events to happen and unfold naturally.
Believe it or not, a lot of these photographs can express the rawest emotions from the day. From the moments of getting ready and seeing your mums expression when she sees you put your gown on, the emotions of the groom when he gets to see his bride walk down the aisle, all the way to the reception where dad gives an extremely emotional speech, leading to some emotional tears from the guests and bride & groom.
It's photos like these the couples will enjoy. Reason being, the wedding day can be so stressful, couples may not necessarily be present enough to enjoy and experience the day as much as they'd hope, because they may be so focussed on the day and more concerned about making sure nothing is forgotten and ensuring the day runs on schedule. And it's priorities like this that can ruin your chances to see or experience every moment of the day.
Capturing priceless candid moments
Photojournalism is important because it captures moments in its most authentic form. One of the best examples of seeing authentic photos is through street photography or even wildlife photography (if you're into the animal world).
---


---
Experience in knowing traditional and cultural wedding customs.
In addition to managing and guiding the couple and guests. Experienced wedding photographers should also have the ability to capture the moments that tell your story but also have some special significance for you without intervening.
For example, when it comes to cultural wedding customs in Chinese weddings, the Chinese tea ceremony is one of the important aspects. Knowing where to position yourself when the couple gives tea, and receive gifts from their parents, uncles and aunties is the important part about it.
Another example would be a Greek Orthodox Church wedding, where there are two services (compared to a traditional wedding), the engagement (ring exchange) and the Sacrament of Marriage. The Sacrament of Marriage which involves, the joining of right hands, the crowning of the bride and groom and their ceremonial walk. Knowing these details will prepare us to photograph these details is always important, otherwise, why would they do it?
Paying attention and expecting these events is important because you won't have a second chance to turn back time, just like missing the first kiss, it can happen!
---

---
Experienced at capturing real moments as they happen at a wedding
Similar to what I said above, photojournalism also requires us to have the intuitive ability to foresee when certain emotions, events, or moments occur during the day. This is likely to happen for the 'first looks' with the family or couple, the bride walking down the aisle and seeing the expression on the groom's face. And the emotional wedding speech from dad. This is really an important thing to reinforce because, if we don't pay attention or have that keen eye for detail, we may miss those extraordinary beautiful moments that deserve to be in the wedding album. It's like we have an important role in being able to provide proof that emotions of happiness, fun, laughter and joy did occur that day and it's those moments that really do matter.
---

---
Editorial wedding photography
This style allows the photographer to express some of his/her creativity that is normally inspired by fashion or wedding magazines. It's a chance to create photographs that are styled in a way that complements the theme, colour, and surroundings of the wedding day. You may be guided in a way that accentuates your wedding dress and your features to the point where you may appear as if you're in a fashion magazine. It's similar to traditional photography but is more 'up to date' with the times and 'what's in' in the world of fashion and wedding world.
You won't see a whole lot of these photos, but from my experience, you're more likely to have these photos taken when you're getting ready, after the ceremony when you are taking portraits with the couple. Or even during your engagement session.
I believe these photos are great to have because it is your wedding day, so it's a chance for you to feel amazing and showcase your wedding gown or suit. So why not be pampered in a way where you get to celebrate yourself and your significant other where all eyes are on you.
Boudoir photography
An additional idea I thought I would add is boudoir photography. This is tasteful implied nudity or the bride wearing wedding lingerie. It's an opportunity for the couple to have some sensual photographs taken for their significant other. It's certainly not for everyone, but it's another way of providing a gift to their partner, just like the first look, or that expression you get to see when you're walking down the aisle in your wedding gown.
Editorial photography is creative & fun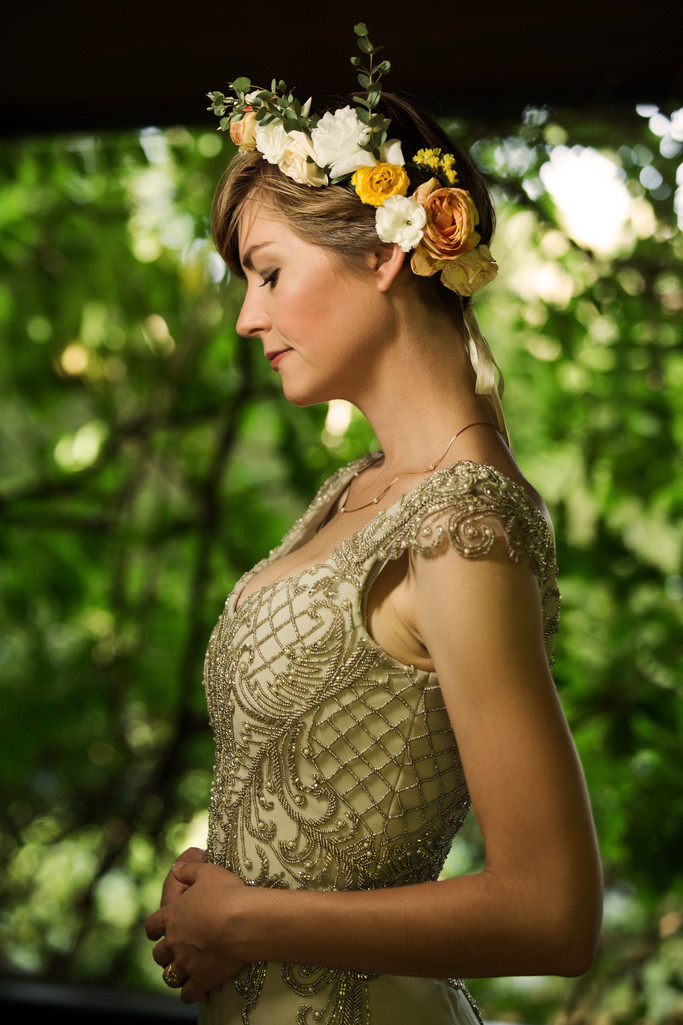 We can create photographs that are tasteful, not too over the top, but make you feel and look amazing
You'll be surprised when photographing an expensive dress or suit, that you're technically in the zone of fashion photography. So it's always important for photographers to be up to date with all of the fashion trends and apply what we know into the photographs.
When you're given a chance to take an amazingly beautiful bride in her gorgeous dress, why wouldn't you want to make her look amazing? (without being too tacky). So it wouldn't hurt to create photographs that not only show off the beautiful dress, but with her in it.
Another important factor about keeping up with the trends is, to be selective with them. When we're creating an album for you, it's important that if we create photographs adapted from fashion magazines, that they do not become outdated 10 years later, when you look at the album again.
---

---
Artistic & fine art wedding photography
As artists, the way we see the environment can help support or complement photographs that tell a story, convey a message, or even a 'wow' factor image that just sums up who the couple are in a relationship. Artistic & fine art photography allows the use of all of the tools and techniques we have under our belt, to contribute to the photography and to the story of the wedding. Some of these techniques can include photography terms like leading lines, or rule of thirds photography.
In general, these techniques really help with composing appealing photographs to the eyes of our couples.
There are so many other elements that can included and combined like;
camera angles (zoom, wide angle)
architecture,
landscape,
composition,
lighting patterns,
textures,
shadows,
shapes,
colours,
wedding props; bouquet, flowers, wedding rings, cuffs, shoes, gifts,
camera settings i.e. double exposure,
the way photographs are edited; desaturated colours, contrasty, black and white, dark and moody,
silhouettes,
couples posed in a way that expressed a message or follows a popular trend, or something symbolic in their relationship.
Believe it or not, there will always be some level of artistic expression in photographs. As it is a way of complimenting a spread of photos in your album or even focus and showcase the design of your wedding gown. The possibilities are endless.
This is the fun part of being a photographer because it's just another way of expressing messages through our knowledge and experience of photography.
---

---
Artistic & fine art photography makes us unique!
Without some level of artistic or 'fine art' characteristics, I don't believe we would be photographers. It's true everyone is an artist in their own way. But with photography, being able to use their environment, the tools, the wedding paraphernalia, creatively is important in allowing that point of difference to come across in the photographs. And helping define how unique photographers styles among the other styles mentioned.
Wedding Photo editing style
The way photos are edited can also be categorised as a 'style' in the artistic and fine art category. As I mentioned above, some photographers like to edit photos in a particular way, where it complements their style or even the environment the wedding venues are held. Some styles include;
Natural - very light and bright
Dark and Moody - heavy contrast with an edgy look.
Matte - hazy, light, less contrast and desaturated colour tones.
Desaturated - Muted colour tones, that reduce the vibrance or vividness of colours.
Black & white
---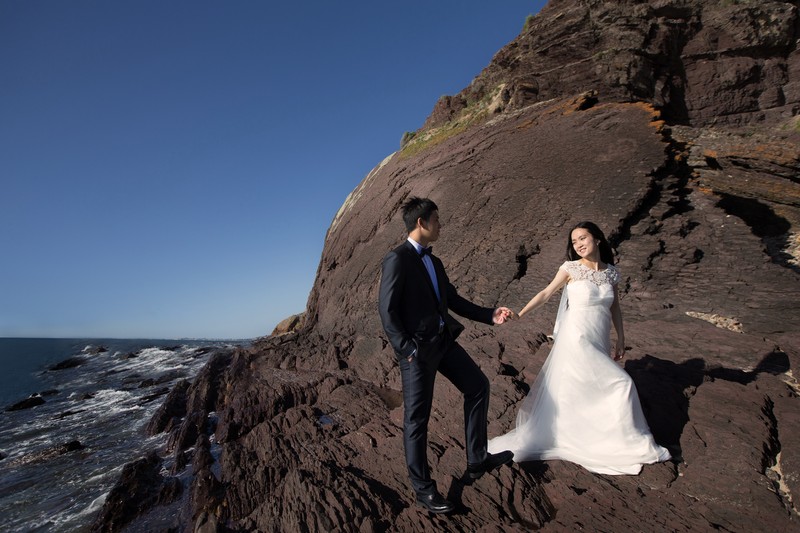 ---
Illustrative wedding photography
It can also be classified as environmental portraits, which can be typically seen during pre-wedding, or during portrait or on-location photographs during the wedding.
Essentially it is a mixture of photojournalism and traditional wedding photography. These portraits like to focus on the wedding ceremony or wedding reception venues landscape which aims to assist in helping connect and tell the story of their wedding. However, because there are levels of candidness in these photos, the photographer will likely guide or direct them in a certain way that feels real. The photographer will typically have planned the photograph with the couple prior to the wedding day and would normally guide them whilst aiming to keep it candid and natural.
It is very much similar to artistic and fine art photography. Typically there will only be a handful of these photographs from the entire wedding, but it's usually one of those WOW photos that show off the scenery and the bride and groom whilst trying to convey a message that could be personal to them. You may get a chance to see a lot of these types of photographs from social media platforms.
Drone & aerial photography
Considering we are living in the age of drones, having your drone in your arsenal of photography gear is considered compulsory these days. This type of photography captures a unique perspective, that allows for environmental photographs and big group photos from a very hard to reach point of view. A bird's-eye view would also be an interesting angle to have with some combined with artistic and fine art elements.
Using a drone also allows us, photographers, to also dip our feet into videography which is a great way of complementing the photographs taken on a wedding day. The random B-roll always adds some dynamics when you're presenting your slideshow to your couple.
Which style of photography is worth considering for my wedding?
Thank you for reading such a long article, but I hope this provides some insights on what popular styles there are, and why and how they can contribute on a wedding day.
To summarise again, I believe all wedding photography styles are important for a wedding day. The definition of artists is someone that can create, practises or performs in a creative art. So why not have the ability or the extra tools available to you to express your art in other ways?
So if you're looking for great Melbourne wedding photography, it'll be ideal to find someone that is familiar with most styles of wedding photography.
But it really depends on what is important to you. Don't leave things to chance and miss special moments and meet with your photographer to be sure. At Houng Taing Photography, I am conscious of providing all styles of photography, from traditional, photojournalistic, editorial, and artistic.
As a photographer, I am always finding ways to improve my craft and I believe by providing every style, it allows a better variety of photos that describes your amazing day.
Wedding Photography Styles