Photographing your wedding ceremony in Melbourne
You've made it! Congratulations, you reached the next part of your big day, your wedding ceremony! Out of everything else in your timeline, this is the most important time of the day, your wedding ceremony! You'll both be given a chance to express your love for one another in front of your friends and families. As you are nervously reading out your vows, time will fly and you won't have any recollection of what happened. This is where we are your eyes and ears to capture amazing storytelling moments. I believe, the rawest of emotions are captured here and I cannot wait to capture them for you!
Here are some things to consider when photographing your wedding ceremony in Melbourne. From my experiences, there are many small details that can make or break a photo. And because we cannot guide or control a lot of what happens at the ceremony, in real time. Here are a few things to consider that you may overlooked at your Melbourne wedding ceremony.
Picking your wedding ceremony location
There are so many wedding ceremony located in the heart of Melbourne. You just need to decide on how you'd envisage your perfect wedding day. And how you'd want to remember it. It could be a ceremony at St Kilda beach. Where you can see the city skyline of Melbourne. It could be a church wedding with amazing architectural details and beautiful stained glassed windows. It could garden weddings at the Melbourne Botanical Gardens. Your ceremony can even be held in numerous wedding venues across Melbourne. You can hold it in South Wharf, on the banks of the Yarra River, so you are close to the Melbourne CBD. You could go to Port Phillip Bay or Port Melbourne where you have the ocean as your back drop. If you want to be fancy or creative, why not have you ceremony at a luxury golf club, Melbourne town hall, or even the Melbourne Zoo?
---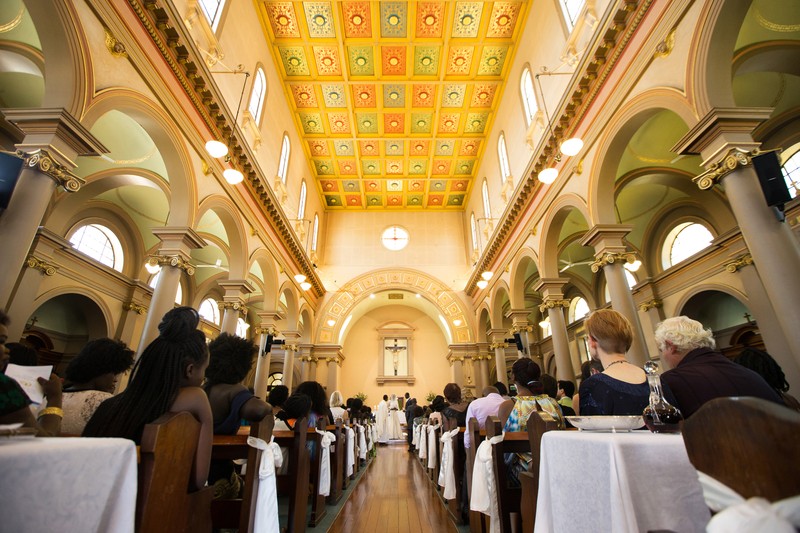 ---
My Process
Depending on where you decided to have your getting ready wedding photos, will determine how long it may take to arrive. I will leave 30 minutes before hand to reach the wedding ceremony venue.
During this time, as a Melbourne wedding photographer, I do not interfere with any part of the ceremony. Every photograph taken from here on out, will be based on the photojournalism style. I will (to the best of my ability) not get in the way of the celebrant, or the guests. I will primarily be photographing from afar with my telephoto lens, capturing the entire event as it unfolds. This is typically the perfect setting for me during the ceremony. The photographs captured here will be a great addition to your album. You'll get to see what happened during that period of time.
During the processional, I will either be at the end of the aisle near the altar or at the beginning of the aisle. Here, I'll be capturing amazing storytelling moments and beautiful landscapes of the venue.
The only time I will be close to you (the couple) is during the ring exchange, during the kiss, or the signing of legal marriage certificate. There are some instances, where I may need to be close during special religious or cultural traditions. Nevertheless, I will do my best to stay as far away from the altar as possible. Unless stated otherwise.
Fill Up The Seats!
One of the biggest things to consider when planning your wedding ceremony is to ensure the seats are filled. It's difficult to photograph a ceremony with gaps between people and their heads. As an event photographer, I have found ways to create an impression that a lot of people are at your event. However, the events I photograph normally have at least 100 people attending, which makes things a little easier. Try to avoid providing extra seats you may not need.
Another suggestion would also to have name cards that identify reserved seatings for family members on the front seats. It prevents gaps from being formed and creates a cascade effect where attendees will fill up the gaps.
Unplugged Weddings
In Australia, unplugged weddings are a thing now. And some couples would rather have their guests focus on their wedding. I mean no disrespect to anyone that has a phone, an iPad, or a camera. I get it. People want to have their own photographs which is great! But there is usually someone that throws up their phone and may get in the way of an important photograph. Luckily for me, I take the initiative to pre-empt these events from occurring by being in the best position at the most critical point. I've yet to have a photograph ruined by an ecstatic uncle or aunty with their point and shoot camera!
You have hired me (and paid me) as a professional to literally immortalise moments for you and your family. You've also invested a lot of your time and money on your beautiful dress. The beautiful flowers for your wedding colour theme and your wedding arbor. I probably don't have to tell you, but would you rather that your attendees watch and see it through a digital screen? Or would you rather they experience it with their eyes and senses? A wedding is supposed to be a special moment where all eyes are on you and your fiancé. If you believe this, I would recommend that you announce your day as an 'unplugged wedding'.
How do you ask for an unplugged wedding?
The best way to announce this through the itinerary, and your marriage celebrant. Usually your celebrant will ask when you're planning your wedding.
You can even ask your celebrant to announce this during his introduction, after the processional. An example would be something along the lines of, "Welcome to [Names] unplugged wedding! We would appreciate that all guests turn off their electronic devices, and cameras. [Names] have spent a lot of time to plan their wedding, and have invited you to be present and enjoy this special occasion. It would mean a lot to them for you to experience the wedding with your eyes. But don't worry! Professional photographers have been hired to capture all of the moments, and will be available online."
Marriage Celebrant
Normally, I will have met the marriage celebrant at the rehearsal. And I will have introduced myself and asked his or her processes of running a ceremony. Every celebrant is unique, so be sure that when you pick your celebrant, that you get along! Bonus points for those you can connect with and are open to the idea of creating the ceremony of your dreams!
Many celebrants also have a set branding theme to their business, so be sure that your celebrant asks you what your colour theme is. My favourite suppliers will always do their best to match to your colour theme. I've met a few that would even buy a specific coloured suit if they didn't have one!
As a note, because the celebrant is the legal body of the ceremony. They will be in a lot of your wedding photos, when you are standing at the altar, or under the arbor. If you want some time where there are no photographs with celebrant, a good time will probably be during the reading of the vows. This is a personal time for you both and every emotion deserves to be captured on this special day. If this is something you want to consider, let the celebrant know. They are there to fulfil any wish you have on your wedding day.
Another thing to consider is to find out what the celebrant intends to be holding during the readings. There have been some that hold huge folders or portfolio diaries that can be unappealing to photographs. As it can be a visual distraction in your photographs. If this is the case, request your celebrant to hold a black book or a muted coloured folder that does not distract from the wedding photos.
I've also seen others use iPads which are great to use. However, be sure to ask them to reduce the brightness of the screen as it can also be visually distracting. The lighting from the screen is quite strong. And when light comes from below the face, it can be extremely unattractive (you look like zombie).
Wedding Musicians
If you're hiring wedding musicians, it would be worthwhile to ensure their music stands are similar. Different stands can again be visually distracting and interfere with the decorations and colour theme of your wedding. Ensure musicians also put their instrument cases in a safe place and away from the ceremony and your guests.
Lighting
For outdoor ceremonies like the royal botanical gardens, lighting can be a little tricky. For Melbourne weddings, because there are 4 seasons in a day.
Normally it is cloudy or overcast, so the diffused natural lighting will look amazing and you won't need to worry about anything.
However, if it is a bright sunny day. It may be worth asking your celebrant or venue hire staff which direction they'll normally place their couples. They may have more experience on where the sun rises and sets at particular times of the day. Another idea would be to have some covering or shelter on the arbor. That way, you won't have ugly shadows all over the place. If you have a night time ceremony. It would be ideal to have professional lighting present. It will be hard to photograph the couple and celebrant altogether.
For indoor events, from most of the weddings I've photographed. I haven't had the need to use artificial lighting. Cameras these days are capable of creating images in low light settings, without destroying the image quality
The Wedding Processional
The wedding processional is beginning of the ceremony where the wedding party enters down the aisle. With the recessional at the end of the ceremony (where the newlyweds and wedding party leave the venue). This is an exciting part as it is where a lot of emotions are expressed from the couple, the parents and friends. There are so many opportunities for photos here.
From my experiences at Melbourne weddings, the groom processional is quite laid back. The majority of wedding I've photographed starts off with the grooms side standing at the altar with the celebrant. In some cases the groom side enter from the side of the venue. This is probably a personal opinion, but it's not just about the bride. In all honesty, it should be about both of you. So there are probably a lot of miss opportunities when there is not proper processional for the groom side.
The brides side of the wedding party will enter one-by-one at the entrance. One thing I'll point out here is to make sure the pace of each individual is slow and steady. This gives time for everyone to enjoy the entrance music and watch the festivities begin. This also makes it easier to capture photos as your wedding party walk down the aisle.
At the same time, because all eyes are on the bride, it's a moment where the groom is able to slowly watch and feel the emotions. And this is the reason why I'll be near the altar, so I can catch those priceless moments of him admiring you walking down the aisle. And vice versa as you walk down the aisle.
I believe at this point of the wedding, some of the most beautiful photos will appear in the wedding album.
Wedding Ring Exchange
The wedding ring exchange is another great opportunity for detail photos. To ensure that we are able to capture some great photos. I normally suggest to the couple, to breathe. Subtly rotate the hand toward me i.e. toward the guests. Put the ring on the ring finger, pause, and then slowly slide the ring on.
I suggest this because it really allows you to be in the moment. You'll be surprised when that finger slides on, that something just clicks in you. And you're forever smiling for the rest of the day.
First Kiss
This photo opportunity cannot be missed. I have had some couples that have kissed before the celebrant announces it. So if you do intend on doing that, please let me know beforehand so I don't miss it!
Another suggestion I provide is when you're about to kiss try to angle your heads so you noses don't crush each other. I'm sure you everyone is well versed at kissing. It's just something during a very nerve racking moment, people tend to forget that there will be photos taken. So be sure you make it count!
Signing of Marriage Register
When you're signing your marriage certificate, there is usually enough event space to place a table to sign your momento document. As soon as you both have signed it, you can either hold up the certificate and smile. Or don't hold up the certificate and just have a nice portrait and perhaps have a small kiss! It's also a great opportunity to have photographs with your witnesses. There is a reason why you chose them yes?
The Wedding Recessional
As soon as you are announced, the wedding recessional will start. I have met couples that storm out of the ceremony as quick as possible. It makes it incredibly hard to capture photos in focus. Personally, I believe it's almost missed opportunities to enjoy the actual processional walk down the aisle.
I would suggest that you both take a deep breath, and walk down the aisle slowly. This will allow you to embrace all of the congratulatory gestures coming your way. Whether they are hugs, handshakes or expressions of gratitude. Some great photos are captured from this part of the ceremony.
Additionally, if you plan to have bubbles to be blown or flower petals thrown as you walk out of the venue. Be sure to remind everyone to do so. There will be a lot of excitement at the end of the ceremony, that guests may not remember. Ask the celebrant to announce it before they send them off.
---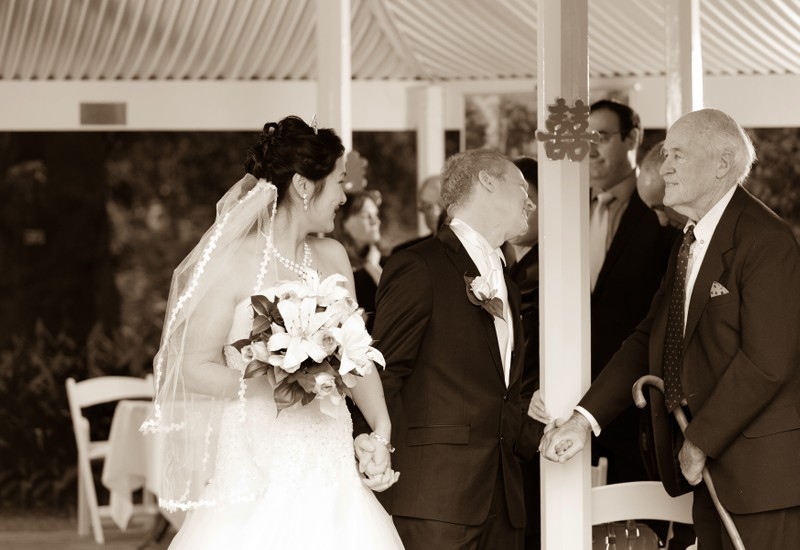 ---
Greeting Guests
This is another part of the event that happens before the big group photo. Normally guests will line up and have their 30 seconds of congratulations, hugs and hand shakes. It's probably the only time where guests will be able to spend time with them officially. It's a great way to give guests an opportunity to give their thanks and send express their love for the newly weds. Again more photo-ops!