Wedding Reception in Melbourne
The day is almost over! You've made it to the wedding reception, a time to recuperate, have some drinks with your best friends and family. As Melbourne wedding photographers, we're are photographing throughout most of the night! And we LOVE IT!
The photos you receive from your wedding receptions are more or less photojournalistic. We don't have any control of the this part of the evening at all. We are essentially photographing the night as it happens. But there will be important events during the schedule that will be photographed.
Order of events of wedding reception
Be aware that your wedding reception schedule start time sometimes depends on where you intend to have your ceremony. I'd say most couples would prefer to have their wedding ceremony close to their reception venue, especially if you intend to hold it in the Yarra Valley. There have been some instances of couple having their ceremony in the Melbourne CBD. And hosting their ceremony a bit further out in suburban Melbourne.
If we're going to go by my wedding timeline guide that had a 2pm ceremony start time. The reception will start at around 6:30pm. From my experience, a 6:30pm start time, sounds more like 7:00pm. Guests will arrive early and it usually starts with cocktail hour. At the same time, sometimes the couple are late as well.
Just remember, this is a wedding photographers schedule. If you require modifications, I am happy to oblige and make the necessary changes to fit your wedding schedule.
5:30pm - 6:30pm - Cocktail hour
6:30pm - 6:45pm - Guests enter reception and seated
6:45pm - 7:00pm - Entrance of wedding party & newlyweds
7:00pm - 7:15pm - Welcome Speech
7:15pm - 7:30pm - Entree / Main Course / Dessert (throughout the night)
7:30pm - 8:00pm - Speeches & toasts
8:00pm - 8:15pm - First Dance / Family Dances
8:15pm - 8:45pm - Table Photos
8:45pm - 9:05pm - Wedding Games
9:05pm - 9:15pm - Cake cutting & Dessert
9:15pm - 9:30pm - Bouquet & garter toss
9:30pm - 12:00am - Open Dance Floor & Dancing.
Cocktail reception hour
During cocktail hour, we are likely on our portrait shoot, or at nearing the end of it. And heading toward the wedding reception. There won't be any photography occurring here, unless otherwise requested. It's normally a time for guests to mingle with each other and prepare for the festivities of the evening.
Reception Venue Details
While the guests are mingling outside the venue. This will give me an opportunity to take some photographs of all of the details in the venue. This can include venue itself, flowers, wedding favours, the wishing well and even the signing book. All of these details are worth capturing because it is part your wedding theme. And you didn't spend a whole year to plan this and not remember what it looks like!
---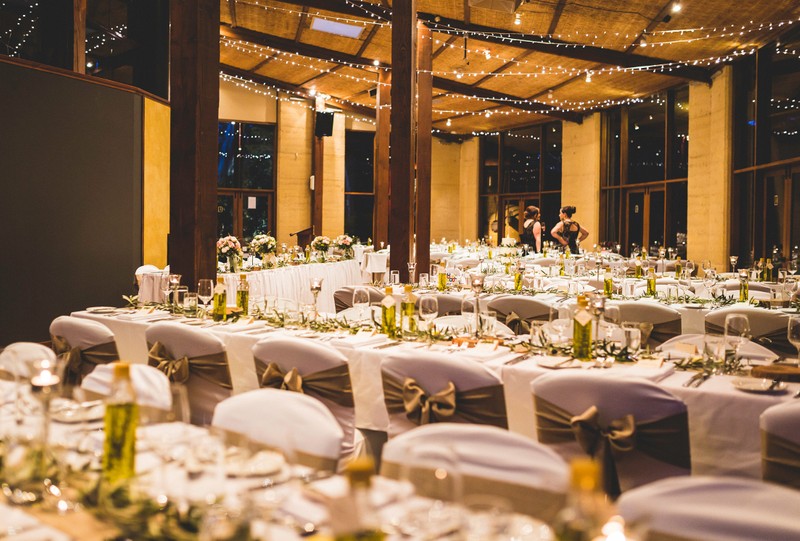 ---
The grand entrance
Here, you and your wedding party will enter in order to take their seats at the wedding party table. They will be formally introduced by the MC of the event. Which can also be your celebrant, if this is a service they offer. Or it could be your wedding planner or DJ.
This part should only take a maximum of 5 minutes or so.
organise your wedding party
Be sure your wedding party are ready and organised to enter the reception. Ensure they are at the entrance at least 15 minutes before the start time.
As your wedding party enters, they'll enter as your wedding reception entrance song plays to make it more dramatic and fit the theme of your wedding day!
This is a time for the party to let loose and enjoy themselves. You'll get some candid shots of your best friends having fun and being silly (if they choose to!).
For some cultural weddings, like Chinese weddings. Sometimes the parents will enter first and will stand at the front for the welcoming speech.
Entrance of newlyweds
As you enter as newlyweds. Remember! This your first time as a married couple to walk down the aisle at your reception. Relax, strut your stuff and do it do another reception entrance wedding song that's about you guys! This part takes less than 5 minutes, but enjoy those 5 minutes in the limelight!
Just an FYI, in Chinese weddings, the couples parents will often enter the reception venue first. This is so they can express their welcome and gratitude to the families that came.
Welcome speech
Usually the parents of both families will stand at the front with the couple. And the parents will provide a short welcome speech to welcome everyone and thank them for coming to celebrate this momentous occasion.
While all this is happening, I'll be capturing anything and everything that is moving! From the wedding party entering with a funny dance, or some sort of movement that will get the guests laughing or excited to get the party started.
I'll photograph you, your parents and you as a couple walking toward your table.
Speeches should be kept brief and short, so the catering can start serving food to the guests and the exhausted newlyweds.
Meals
Once the meals are being served, this is our time to have a break and al photography will cease for about an hour. Depending on how you plan to do your catering, whether it is a buffet or a set course meal. The time's may differ in your schedule.
Usually we will organise a meal that is equivalent to the guests meal. We normally don't require a seat with the guests, but if you have the space and capacity, it is greatly appreciated.
Reception speeches & toasts
Speeches last about 30 minutes. Depending on who wants to give a speech, it usually runs on the order of best man and maid of honour. And if the parents wanted to get involved they would follow. After that it would normally only be the Groom to speak, but I have found that the Bride would also make a short speech.
It would be helpful to keep the speeches short (about 6 mins/person) but I find that if there is something they want to say let them say it. It may delay the catering slightly, but sometimes you may never get another chance like this.
From my experiences there have been many emotional speeches. And I have been able to capture very emotional moments that the parents absolutely treasure.
---

---
First Dance
The first dance is short but very atmospheric in its own way. Be sure you pick your favourite wedding songs to dance to. Why? Because the fun and joy you have when you're dancing will be obvious in your photos! Make you moments count!
The first dance is one of those traditional customs where the couple get to dance together as newlyweds. Sometimes the dances are very basic, but sometimes couples go all out and have dancing lessons months before the wedding to showoff their choreographed dance routine. All eyes are on you, and you deserve the spotlight!
Following the first dance, the DJ or MC will normally invite the parents to dance, and the rest of the guests.
This can go for 5 to 10 minutes.
Wedding reception table photos
I've only ever really noticed table photos during Chinese weddings. Usually what happens is the couple will go around to each table and clink their wine glasses and greet their guests. This is an opportunity to get some more relaxed photos with all of the guests you don't get to see throughout the day. It's a nice way of getting photos with friends or relatives you may not have seen in a long time. I've had couples that also had ideas where they give a chalkboard to guests and write a message for them.
---

---
Cutting your wedding cake
As per traditional customs, its another opportunity to celebrate your occasion as newlyweds. Be sure that your wedding cake can be seen by everyone. It can definitely support the complement the wedding decor which can look attractive with your wedding venue detail photos. As soon as the cake is cut, guests will be able to have their dessert and finish off the evening.
Bouquet & garter toss
Another wedding custom that can be seen in many weddings, from traditional, cultural and event modern weddings. What happens is the bride will go to edge of the dance floor and throw the bouquet to a group of single women. And whoever catches the bouquet is suppose to get married next.
Yes, there is a male version of this. Immediately after the bouquet toss, a chair is placed in the middle of the dance floor. The bride sits down and the groom will remove it from the leg of the bride, with his mouth (yes...). The garter is then thrown by the groom to all the single men attending.
Dancing
As the night comes to an end, the dance floor will be open for dancing to everyone all the way till midnight, or until the end of the reception.
Usually all of the photos coming from the dancing all end up looking the same after the first 5 or 10 minutes. It's entirely up to you, but if you want more photographs then please let me know.
The end of the wedding
It certainly has been a long day! But with all of the photograph that were achieved for each part of the wedding. Personally it is an honour to be given the chance to record and document your special day.